Nurse Immigration to the USA
Connetics USA Supports RNs Throughout the United States Immigration Process
Download Our Immigration Guidebooks for Nurses
Our direct hire approach matches you with an American healthcare facility that sponsors your US Immigration EB-3 Consulate Green Card or TN Visa
The November 2022 Visa Bulletin Details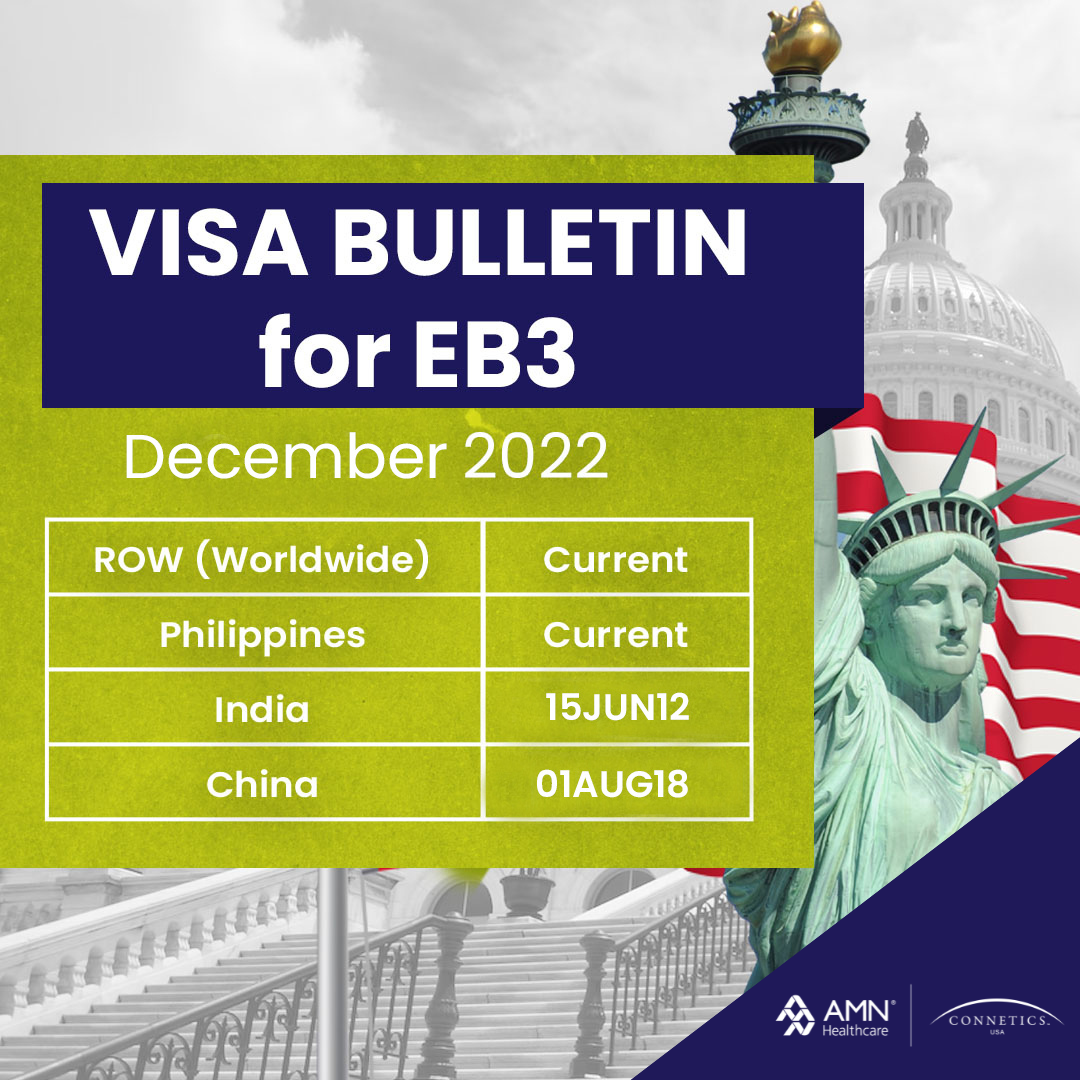 The December 2022 EB-3 Visa Bulletin Details
Immigration Attorney Michael Hammond: Well, we're still current with everyone except for India and China. No real surprises there. No significant surprise announcements are relative to healthcare workers. In EB-2 is potentially going to retrogress soon, but very few healthcare workers would be in that category. So I think for the short term, the visa bulletin is still looking good.
What is the Visa Bulletin?
The Visa Bulletin is like your ticket in the deli line. Right now, U.S. immigration laws only allow a certain number of individuals per country each year into the United States for green card and immigrant visa purposes. It is broken down based on your preference category. Usually, our registered nurses are going to fall under EB3. Immigration also looks at the various countries around the world.
Our chart focuses on the Philippines, India, and China since they are some of the countries where the most foreign nationals are entering the United States. The dates beside the countries reflect the priority date. When Connetics USA's partner immigration attorneys file an immigrant visa for you, on your behalf, you receive what they call a "priority date." If your priority date is on or before the date listed in the chart beside your country, you may apply for an EB3 Immigrant Visa. If it says "current," there is no wait time to file your immigrant visa petition.
Latest Nurse Immigration Q&A Clips
Our Latest Nurse Immigration to the US Video Resources