Nurse Immigration to the USA
Connetics USA Supports RNs Throughout the United States Immigration Process
Download Our Immigration Guidebooks for Nurses
Our direct hire approach matches you with an American healthcare facility that sponsors your US Immigration EB-3 Consulate Green Card or TN Visa
The February 2023 Visa Bulletin Details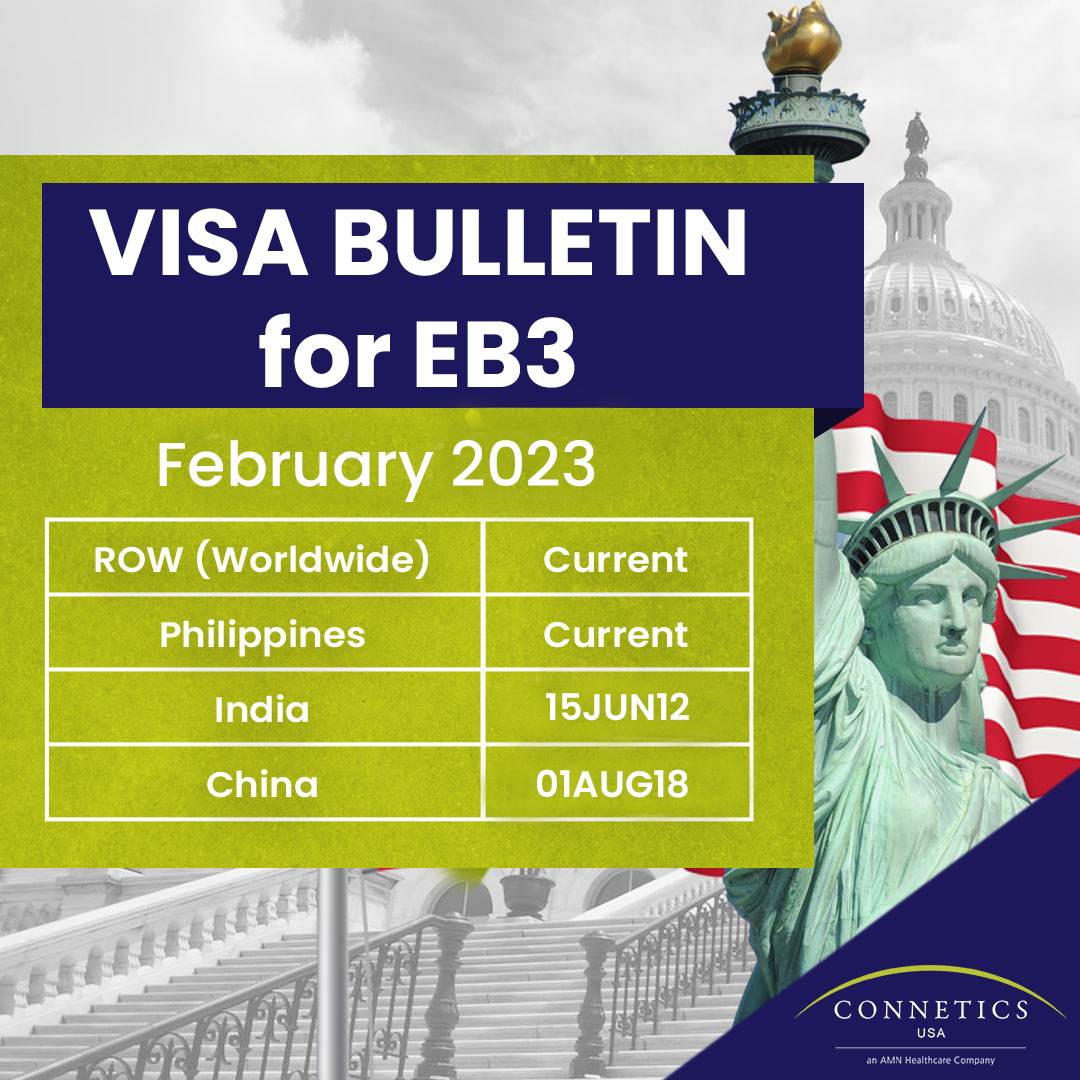 The February 2023 EB-3 Visa Bulletin Details
Immigration Attorney Michael Hammond: The visa bulletin is a publication from the Department of State. And the Department of State basically says, How many immigrant visas can be used in a particular given month, they kind of track them. It's like a mechanism, a counting mechanism to ensure that the limits of how many immigrant visas or green cards are passed out each year, stay within the statutory limits.
So we're allowed 140,000 per year. Fiscal Year, it starts on October 1 runs through September 30. For the last several years, we've had more than 140,000. Because there's something called a spillover from the family base side, a family does not use all their allotted green cards or immigrant visas, they carry over to the employment side and due to COVID.
We had a large number of spill overs for the last two years. This current year, the spillover was about 48,000. So still a significant number. But the Department of State looks at people get green cards in two different ways, either through the consulates through the embassies overseas, or they get them through the US in USCIS in what's called a 45 or Adjustment of Status.
The department state kind of tracks that, as basically, in simplistic terms, kind of communicates with the USCIS and says how many did you approve last month? How many is in your queue? And how are you going to be able to get to and does the same with the consulates.
So they set the priority date or your spot in the queue in the visible to each month. And right now we have the February bulletin here in a couple of weeks or maybe even within the next 10 days we'll get the March Visa Bulletin because it comes out each year or each month in advance, and you have to look for two things, you have to look for what country you were born in. And that's an important distinction. It's not your country of citizenship that counts. It's your country of birth. So you may have been born in India moved to Canada became a Canadian citizen, you might be eligible for a TN but you're not going to be eligible to get counted under the Canadian category.
So you look at what country you're from. And notice, there are three countries that have their own kind of quota their own category, Philippines, India and China right now, others can be added as numbers are used. And then everybody else falls into the other category. ROW simply stands for rest of the world, okay. And if you see the word current in your column, that means there's no line for you, there's no queue, you can immediately go through the process, as Chris talked about, I 140 approved in NVC processing, going straight for an interview.
If, however, you are in a category that's backed up, or what we call retrogress, for example, India, they're currently working only on people who were filed and have a priority to establish with the filing of an I-140 prior to June 15, 2012, which means as a practical matter, if you're from India, or you're from China, there's not really a viable EB3 option, because the line is too long, where you're flying for Philippines flying for the rest of the world.
Now, we expect to run out of Immigrant Visas by the end of the fiscal year, that's not a bad thing. That just means they're using them all up, and then we get a new allotment. What we're all concerned about is when the number the demand exceeds supply, it creates retrogression, and that at some point, likely in the next 12 months, we're gonna get some retrogression, potentially for everyone in other categories, such as the EB2 category, which would be more like PTs, OTs, certain types of engineers, there's already a cut off date for the rest of the world as well as other visa countries.
So the visa bulletin is extremely important as it relates to the timing of you getting your green card, but right now, everything is clear sailing, and most people expect it to stay that way for the foreseeable future, at least until next year.
What is the Visa Bulletin?
The Visa Bulletin is like your ticket in the deli line. Right now, U.S. immigration laws only allow a certain number of individuals per country each year into the United States for green card and immigrant visa purposes. It is broken down based on your preference category. Usually, our registered nurses are going to fall under EB3. Immigration also looks at the various countries around the world.
Our chart focuses on the Philippines, India, and China since they are some of the countries where the most foreign nationals are entering the United States. The dates beside the countries reflect the priority date. When Connetics USA's partner immigration attorneys file an immigrant visa for you, on your behalf, you receive what they call a "priority date." If your priority date is on or before the date listed in the chart beside your country, you may apply for an EB3 Immigrant Visa. If it says "current," there is no wait time to file your immigrant visa petition.
Latest Nurse Immigration Q&A Clips
Our Latest Nurse Immigration to the US Video Resources