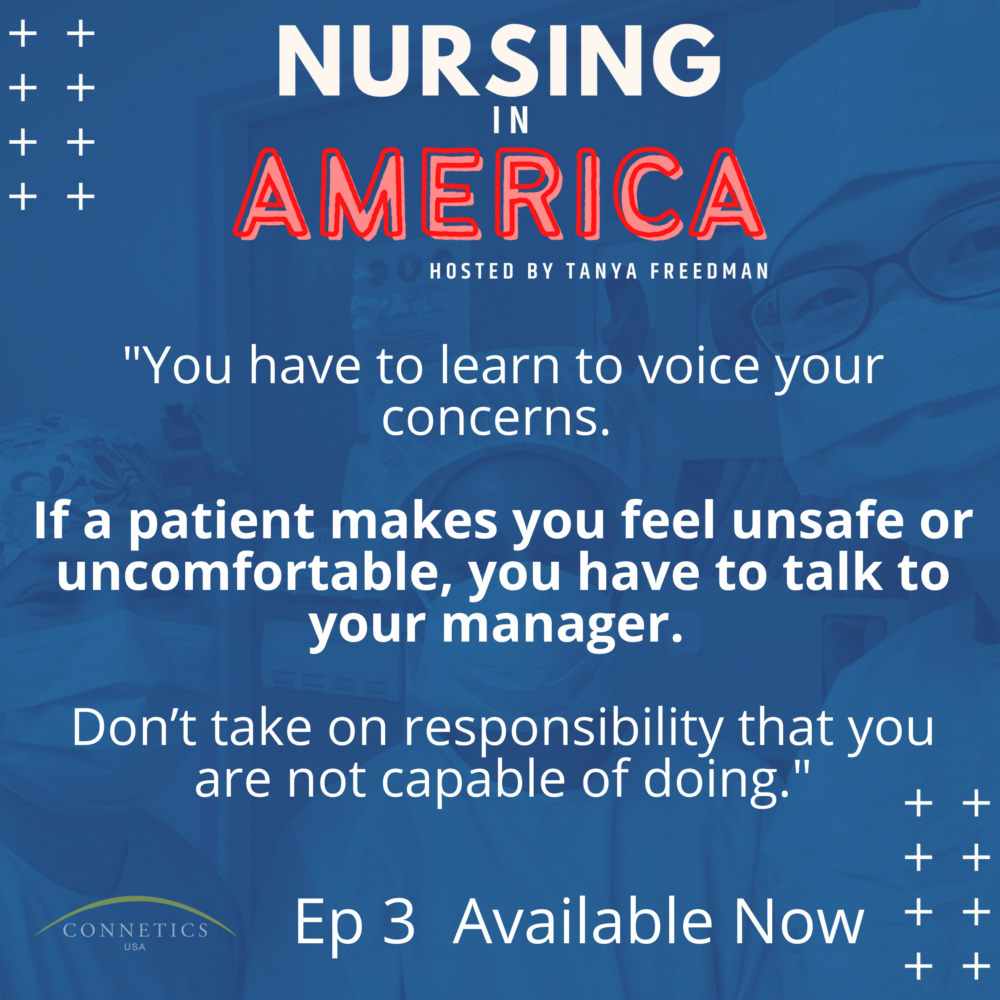 Tanya Freedman hosts inspirational conversations with Filipino nurses who have made a new life in the United States - they reveal how they did it, and provide insider info you won't find anywhere else. Here you'll find all the knowledge and inspiration to live out your own American dream! If you're thinking about making the step to living and working as a nurse in the USA, then why not enlist the help of one of the top medical staffing agencies?
Being Assertive and Flexible – pt 2
Part 2:
On this episode we look at assertiveness and flexibility in the workplace and in life. As well as
The attitude employers are looking for
The importance of honesty
Learning to speak up
This series is brought to you by Connetics USA. Connetics is a nursing recruitment agency that offers International Nurse Candidates the best placement options for direct hire positions in the United States' healthcare industry. As one of the leading healthcare recruitment agencies, specialising in international nursing jobs in the United States alongside permanent resident green card acquisition, Connetics partners with healthcare facilities across the US to find the best fit for our nurses. We work personally with each candidate to create a successful, long term partnership between client and candidate, and our service always comes free of charge to our nurses. If you're thinking about making the step to living and working as a nurse in the USA, then why not enlist the help of one of the top medical staffing agencies?
00:00
This is nursing in America. Each week we speak with incredible Filipino nurses who have taken the leap to start a new life in the United States. If you're thinking about doing the same, then this is the place you'll find all the insider knowledge and inspirational success stories to realize your own American dream. This is the second part of a two part episode. So make sure you go back and listen to Part one first.
00:34
Talk a little bit James about in those first like year that you came to the US. What was it like for you? And and what were the biggest challenges you experienced? And how did you overcome that?
00:46
Okay, so this is kind of, I would say, a revelation. Because, you know, I've been a nurse in the Philippines for about nine years prior to migrating here to the US. And those nine years. I tell you, I was not a staff nurse at all. I mean, I from from after graduating from from college, I went to teaching right away, so I taught in nursing school. So coming to the US without any bedside experience, um, it was really a hurdle, you know, so it was hard. It was it was challenging. So I was a typical instructor, but you know, having students is different from having direct patient care. And, you know, the very first day when I had to care for a patient, I'm like, Oh, my God, I'm gonna do now, you know, I have to be in the role of that staff nurse. So that was probably the biggest challenge. And another thing is that back in 2002, there were no international testing centers for NCLEX yet, so we had to come to the US and work as a CNA before, you know, and it took us about probably a couple of months before we were able to take the NCLEX. And another part of the challenge was that the job that I had in the Philippines before coming to the US is that I was a dean of the School of Health Sciences. And for me to work as a CNA, and so I'm like, I'm the dean, and I'm the CNA is like, but you know, I signed up for this, you know, so I have to be flexible. And, you know, I had to do what I say it does. And once I pass my NCLEX on my first day before, then I just had to learn as much as I can, you know, the good thing about teaching is that, you know, theoretically I know those those different aspects, but to put it into practice, it kind of helps. So I mean, you have to be really very open and flexible, and, and learn as much as you can, I mean, the good thing about hospitals here is that they will train you. So regardless of your your baseline, they will, they will, they will give you the training that you need. So that's how I always get the challenge. I really had to make the most out of learning the system, learning the equipment, learning the technology, and just simulating with the US starting practice. And I'm 18 years after. Yeah,
03:17
yeah, to tell us what, well, I think your story is just so interesting, and will and will be so inspiring for so many people because to be at the position that you were in, and then come and work as a CNA, I think probably was extremely challenging.
03:39
Oh, yeah. Go ahead. Yeah, um, but again, you know, being me in terms of, you know, like I said, you know, this is what I want, so I wouldn't mind starting from, you know, from the bottom up, because the, the limitation there was that there was no Testing Center in Manila. Okay, so it was, it was part of orientation where it now you have to do to work as a CNA until such time you, you pass your NCLEX. So, and then this will also probably inspire those who have no clinical experience that, you know, you get, you can find some agencies or employers can also hire you and you know, just just make the most out of it. Grab that the chance to be trained.
04:30
Yeah. And, and I think the thing that strikes me so much as you speaking, James, is that you had your eye on the goal, that you knew that in the beginning, it was what you signed up for, you knew that it wasn't going to be all, you know, rainbows and fairies, as people say, like everything perfect and utopia. If you were doing a job that you really probably didn't really want to do, right? I mean, it's, you know, hard to go from where you were to being a CNA But you kept your goal on the end result of that you knew it would take time, but you would get there. And the opportunity of the training?
05:11
Yes. And if I would put it simply, you know, when I went to nursing school, the back of my mind at first I couldn't tell it to who the one who was interviewing in nursing school, but in the back of my mind, the only reason why I wanted to take up nursing is I want to work and live in the US period. And I have to make my way up once I'm there. So you know, 18 years after here I am in my PhD, so I really had that bowl to really keep on moving. So yeah, that's all the thing I wanted, you know, to do work and leave as a nurse in the US. Yeah. So you.
05:58
You had your dream, and you were determined that you were going to make it happen. Yes, I was like, I'm gonna make it happen. No matter what. Failure is not an option. Exactly. Exactly. Yeah. Yeah. Yeah, that's amazing. And, and you use the word flexible, being flexible a few times. And, and to Elaine, and James, if you think of, of of it from a nursing perspective. And how was nursing different? And how did you have to be flexible from a clinical perspective, when you started working in the US, I know Jean, Jean has shared with us. And her experience of that on previous live, Laura talk shows.
06:46
Yeah, so my first job here in the US, I was a cashier, while waiting for my NCLEX Rn exam. And then I also apply for a caregiver position. And then after I passed the NCLEX, Rn, I work in a skilled nursing facility as a nurse, but it only lasted for like a month. And then I applied for an ICU position in six beds, ICU, so I was able to, to get the job position, I started working full time. And then the thing is that we sometimes we, whenever we have our low sensors, they will float me to different departments, I was floated to med surge, I was floated to emergency room. So you have to be very flexible, and you have to be tough, you know, if you don't know anything, then you have to be assertive and ask questions, because you have to make sure that you're safe. And you're that you are giving the right care for your patients. And then after that I applied for a different ICU position in a bigger hospital setting in a 200 beds hospital. So I was able to get the job. And I started working as a trauma ICU nurse. And, um, and then I had like two jobs at the same time. So I was working full time, and then I was working part time. And then I just decided to just keep my full time job in a trauma cardiac unit. Because it's you know, I just learned that it's hard to, to balance, you know, so I think, flexibility, and you have to be, you have to learn how to voice out your concerns. If you feel like you don't, you're not safe, then you have to talk to your manager. And you know, if you have problems with your patients, and maybe you can ask them to give you a different nursing assignment. And if for example, they give you a balloon pump patient and you're not comfortable or you're not oriented with that kind of patients, then maybe you can just talk to them be honest, you know, don't don't take responsibility that you are not capable of doing. I think that's the advice that I will tell them.
09:14
That's wonderful advice lane. And really an interesting story because it seems like you went from like skilled nursing and then to the next job and then to the next job. And each time you were able to gain more and more experience. But the common thread that you seem to be giving the message is to be as to be assertive. Right.
09:36
And before that I also work in Saudi Arabia as an ICU nurse before I arrived here in the US. That's why, you know, I have the I already gained experience, but you know, different facilities, they have different protocols. So it doesn't mean that my practice in Saudi Arabia is the same as the way they handled patients here. So there's a lot of differences. So, you know, in terms of machines, IV palms, the patient's their attitude, how they behave, and how you deal with your doctors as well. It's very different than, you know, you can just say that I already have my bedside experience and I'm capable of doing it. No, you have to, it's like you're starting from scratch, you know, so you don't have to, you know, you just have to compare and then learn, and just go on with the flow and just make sure that you're safe. Yeah.
10:34
Yeah. That's really wonderful advice. And I see that Paul has joined us.
10:40
Hi, Paul. Hey, guys. Looking very professional. I'm sorry, I was late. I'm in a clinic. Right now I'm doing my family nurse practitioner residency. And it's just been a busy day, we have a lot of COVID patients that we're trying to call into contact tracing. And I'm happy to see Elaine and Serge as Miss Jean. And Danielle, thank you for your time. And I'm sorry for being late.
11:12
We we understand, we know that this is trying times that we're living in very difficult times. And we're just grateful that you can be here, even if it's for a few minutes. So and that's the purpose of the lafora talk show also is to eat one, try and spread a little bit of light. At this time, that's really difficult and just share our inspiring and inspiring stories. James, from a clinical perspective, I know the lane has shared her experience as a nurse on a clinical on the clinical side. And I know you've also, you know, spoken a little bit about your your experience, just generally Can you speak about it from a clinical perspective? What were the biggest differences that you experienced?
11:59
Okay, so the the hospital that hired me is one of the University Medical Centers, it's a nationally ranked nationally ranked Medical Center. So the practice the technology, our state of the art. So, you know, transitioning to that environment was really challenging at the same time. So you have to be really flexible in terms of learning those things. The area that I was assigned to was neurosurgery. So there was more of a shocker for me just like in the back in the Philippines, you know, you don't see neurosurgery as a specialty unit. Then when I started in that area, I liked it. So I had to to learn as much as I can. Now being flexible, because you may have a different kinds of patients with the same diagnosis, you work with different people. And it's a medical center with a school of medicine. So there's a lot of, of medical residents, so you really work with a lot of, of patients and then staff. So I think the flexibility comes with comes from my previous work experience where I had to do a lot of interpersonal relations thing with the faculty and students. So that really helped me transition from the academia into clinical practice. So I don't know, it's taken me where I am, you know, rather than then, when dealing with people, I always look into what's going on rather than directly attacking them or saying something. In other words, don't be instrumental. And that way, you can be flexible in dealing with with with different kinds of people. And then that really helped me with that smooth transition from the Philippines and to the US.
13:53
And that's that seems to be a common thread. James is like that attitude, right, just like trying to see it from a positive attitude, and trying to be flexible. That seems to be a common theme from both you learn and learning.
14:11
I hope you're enjoying the podcast so far. If you know a friend or colleague who would benefit from listening to this conversation, please let them know about the show. We want to help as many nurses as we can turn their dreams into a reality. If you're thinking about making the step to living and working as a nurse in the USA, we can help you head over to kinetics. usa.com to find out more. That's kinetics. usa.com.
14:37
I can tell you from my experience I've seen I've experienced it myself. And I've seen 1000s and 1000s of nurses come through to the US. And the common theme is that the first few days, the first few days and weeks are kind of the honeymoon when it's when it's really you know, just exciting and you're so happy to be here and then some challenges can Sit in, but have but often I've seen, it's the attitude of having the goal in mind, as James has said, like knowing even if you have to take a step a few steps back before you move forward. And being flexible, as James said, being assertive as the lane said, Jean, would you agree with that? Is that what your experience has been as well? Those nurses who have the right attitude are the ones that that tend to do better?
15:27
Yes, yes. You have to be assertive and if you don't know if you don't know the process, you have to ask anybody your charge nurse that I don't know this procedure, please help me something like that. Don't assume that you know everything. Because it's a it's a learning curve. It's a learning process everything
15:48
and it can be uncomfortable. When you're in a learning curve like when you're actually in it. It you can feel really uncomfortable because even if you have worked in in Saudi and the UAE in another country, it you you can feel and just it can be uneasy, unsettling you feel out of your comfort zone. And you really have to to work on your attitude. And so just to look at the chat, I wanted to just see if there any questions I know we have friends watching from Saudi Janet Genevieve is watching from Dubai JP is watching from Philippines. Sheila from New Jersey may from qH just sell from Saudi Edmond is watching from Colorado. And Janell from the Philippines. Christelle I know Christelle Sheila hi Sheila and Miss Milani We are the same we came using the fiance visa so Sheila is is relating to you the name and Angelina Oh, hi Angelina Mei is watching joy is watching Abby I know Abby's watching a more higher Moore's watching. And okay, regarding he has a question. And I'm residing here in Maryland, and I'm a registered nurse in the Philippines. My license expired. Do they needed to apply for the NCLEX? Jean, do you want to maybe take that question for regarding?
17:19
Yeah. So if you are in Maryland, and you want to take NCLEX through Maryland Board of Nursing, you need to have that license. And if your license has been expired in the PRC, they will not do the verification of your license unless your license is active. So you need to renew that one first. And so you you need a credential evaluation in cgfns. So the credential evaluation, you will need the PRC verification to be submitted to cgfns underscore documents to be submitted in cgfns. So to answer your question, yes, you need a license renewed that first, and then the process will be continue to process with it.
18:07
Okay, so there you go. bregoli, from the go to miss Jean, sharing her words of wisdom. And Dawn is asking a greeting from Norway. Just a question. Is it possible to apply for Social Security even though I'm here in Norway? And don't? The answer to that is no. Unless you have a green card. Or if you are a Canadian citizen coming on the TN Visa, you need to pass the NCLEX and get a petitioner and please reach out to us we'd be happy to help you with that. And this is saying wow. So this seems to be enjoying it. Marvin. Oh, hi. Marvin. Marvin joined us at the last month at the law for talk show. Welcome Marvin. Princess. Hi, Princess. I know princess is watching. And so Christine has a question. Christina has a question about an L two visa. And Christine. I'm going to table this question. And I'm going to ask it when I do the forum with the lawyers. And we can answer your question for the LGBTQ visa, I will make a note of that to make sure to ask for you. And Michelle is watching Christine is watching and ramal. And Ramallah is asking my question is is there any age limit when you apply to be a nurse in the US? And the answer is no. Remember, there is no age limit. And Sheila has a question. And I think this question looks like it is about the NCLEX. Maybe if you want to go into the chat afterwards and answer that question from CPA clicks. Oh my goodness, we're getting so many questions. This is so exciting. And wine is asking is the EB three included from the freeze up Hiring going on in the US. And the answer, Weiner is no. So the we are right now there are hundreds of ob nurses still being sponsored, which is the good news. The visa bulletin is moving and positively, which is really good news. And we also have the healthcare workforce resilience and Act, which Congress is going to be I believe they're going back on July the 10th. So we really hopeful and in the us a lot of a lot of people including Connecticut, USA have been working very hard behind the scenes to educate the the facilities and the congressmen and senators in the house on this particular bill, and it probably will be voted on in the next like six weeks or so. So we're very hopeful that if that comes in that could be a fast track for nurses. So stay watching and we'll keep you updated on that. And Tinker Mel is watching from Illinois. Paul is watching Louise. Hi Louise. So great to have you here. Door France is watching from the UAE Maria from the Philippines the wealth from lots and lots of people falling from Saudi Gracie from Singapore. Diane is watching. And for olien is asking about the EB three visa once you've already licensed and before and you have a good I'll school so for Eliana will ask that on the lawyers panel. So to finish off the last question for the lane and James, what what would you say is what surprised you in your move to the US? What would you say was the biggest surprise that you didn't expect in your journey of coming to America live,
21:52
I did not expect that I will be hired as an ICU nurse right away. Because I was expecting that because of my work gap experience, you know, experienced like a one year gap, I will have a hard time looking for a job. But you know, I was honest with my employers, I just told them this is the kind of patients I used to have when I was working in Saudi Arabia. And then they put me on orientation. So they you know, observe how I work. So you know, if you if you have that goal in mind, if you will work hard for your goals, it will really come through. So just don't give up and then just continue what you're doing. And then you will be able to, you know, to achieve whatever goals you have.
22:42
That was already words of wisdom, the lane pearls of wisdom. Don't give up. This is a journey. It doesn't end the day you arrive and get off the plane in the US. It's a journey that continues. But I think to be assertive in that journey is is and to be honest. And thank you for being honest with us today and sharing your experience in James what would what would you say for this question? What surprised you
23:15
James?
23:18
Oh, I think we have a little bit of a technical hitch. Gee, what surprised you the most about coming to the US?
23:27
What surprised me and coming here? Yeah, What didn't you expect? I think the culture of some people like sometimes I experienced some discrimination. Like you know, we you we are not born to speak English in the Philippines and then some some of the words that we have here is different. It's different difficult to pronounce. So the potassium and I don't know until now I still have a difficulty pronouncing that potassium So yeah, those discrimination I feel some some of those discrimination in the hospital.
24:13
Yeah. And and I think that's, you know, the reality we living in the real world and there are, you know, some people who are so, and I'm just looking at the time I can't believe that we are over time. And but it was such a fun discussion. Thank you. Thank you so much for for being on the lafora talk show. And thank you lane. hearing your story. I think it was so inspiring for so many people. And thank you to James unfortunately we've lost connection but hopefully he can he can watch the recording. Thank you for James I think he really showed another perspective and and really having that like perseverance and to know what the goal is in mind, even though you might be encountering some challenges I think will be so encouraging to so many people. And Miss Jean, thank you so much for your time and your expertise to Paul for coming on and giving us a few minutes. I know how busy everybody is right now. And just overall to the lafora team. I know so many people are so grateful for this opportunity to learn from each other at this trying time and pay it forward. If any of you are have got friends or colleagues that are looking to come to the US, please pay it for this is your turn now to pay it forward to others. And make sure to tag your friends prepare people education is education is key knowledge is is is is key. And the more you know about what the journey is going to be like the better prepared you're going to be and the smoother the transition.
26:03
If you enjoyed today's episode, then please help us by hitting the Follow button on your podcast player and leaving us a review. If you're thinking about making the step two living and working as a nurse in the USA, we can help you head over to kinetics usa.com to find out more. That's kinetics usa.com. Tune in next time for more incredible conversations.